About Me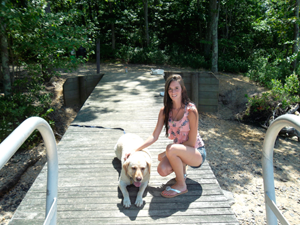 Welcome to A Dapper Yapper Mobile Pet Spa owned and operated by Melissa Fay, proudly serving Monmouth County New Jersey. As a young girl I knew animals were going to be my life long passion.
I attended Montclair State University and earned my Bachelor's degree with honors. After graduation, I realized I needed to get back to my calling and work with animals. I turned my passion into a career, and this is where pet grooming came into my life.
My next journey was to go back to school to learn to be a professional pet stylist. This decision was the best I have made yet. I attended ABC Grooming Acadamy in Farmingdale, New Jersey which is a accredited and licensed training program. I completed a 200 hour hands on program, which highly stressed the importance of patience and gentle care during the grooming process . Completing grooming school gave me the knowledge and skill set to properly care for your pet. I decided to take this knowledge and turn it into my very own business. This is where A Dapper Yapper, LLC was formed. It is my mission to not only satisfy my four legged customers but you as well. Animals bring me joy, grooming is my art, and pleasing you is my goal.